by Charles Martin
Reprinted with permission from AppleInsider.com
If you travel a lot with your iPhone, there are a few apps that can make those arduous holiday journeys a bit easier, and AppleInsider delves into a few that we like.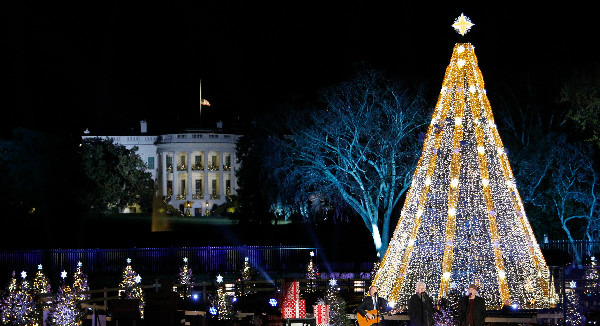 There are of course a plethora of hotel- and flight-booking apps for iOS, but today we want to focus on apps that will help you once the journey has begun, and can save you time, or money, or aggravation. From navigating your way around to making nice with the locals, we'll lower the barriers that might be keeping you from seeing more of this beautiful planet we live on.
First, here's a quartet of non-app tips from a seasoned globe-trotter: unlock your smartphone and buy local SIMs at your destination to get better rates on talk, text and data. With the help of some online tutorials, learn a few key phrases in the native language of the country you're visiting, particularly if you're going to be there for a while (our picks: "hello/goodbye," "please/thank you," "where is the toilet," "can you help," and "I'm sorry I don't understand").
If you fly a lot, sign up for TSA Pre in the US, Nexus in the US and Canada, or Global Entry for the worldwide traveller. The time you save will more than make up for the modest costs and hassle in the initial signup. For the dignity of keeping your clothes on alone, not to mention the sometimes-amazing amount of time saved, we consider this a must-do for airport denizens.
Apart from the apps we're about to suggest, download the app of whatever airline you're going to be flying; these days, many of them use their iOS or Android app to launch entertainment options, flight data, and much more.
Finally, we'd be remiss in stating that every one of our choices have Apple Watch implementations as well, so you don't have to wander around with your phone out all the time.
TripIt (free, supported by subscription)
If this article were called "One essential app for travel," this would be the one. We rely heavily on TripIt for easy organization of our travel details.
When you book airline, cruises, or train trips, or hotel/hostel stays online, you generally get an email confirmation. Once you've signed up for TripIt, you simply forward those confirmations to plans@tripit.com, and the data is instantly converted into your editable itinerary in the TripIt app.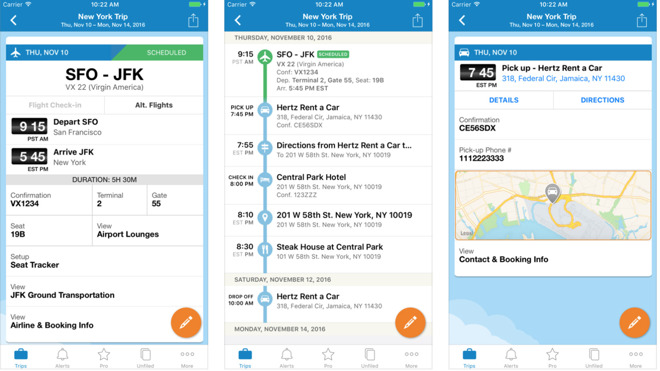 Having this data all in one place and chronologically organized is both effortless and delightful.
The Pro version is a $49 per year in-app purchase. It adds nice extras like real-time notifications (in case of a change to your flight, for example), airlines rewards program collation, seat tracking, and so on —but is not vital unless you're a person who spends the bulk of their time flying, rather than visiting the destination.
There's a similar program called TripCase that is now a bit more business-oriented, but it requires more manual entry, and seems to support itself with integrated advertising disguised as recommendations, which we personally don't care for.
Apple Maps and Siri or Google Maps
We think its a good idea to have both apps on the iOS platform, though we prefer Apple Maps generally. Apple's transit directions and iconography are far better in our view, but the former is only true where Apple actually has transit directions, which isn't as many places as Google does.
Apple's recent integration of other apps like OpenTable and Yelp into Maps makes it hugely functional as you go along, but then again Google Maps has the unbeatable, near everywhere Street View for when you're on foot in a strange neighborhood.
We've found that Google's search app has a better chance of telling you the operating hours of local businesses; Siri tends to punt to a company website, but can do more for you in other ways. In total, we think that the Apple Maps/Google Maps combo are indispensable for travelers who need navigation help.
Hotel Tonight (free)
There are other apps that offer a similar service, as most of the hotel-booking apps now have last-minute deals, but this is the original and still the best for a certain type of traveler: the one who prioritizes a high-quality hotel at a discount over the cheapest possible accommodation.
Hotel Tonight offers hand-picked and company-reviewed places that range from modest to ridiculous in price, but always at a serious discount off their "rack rate," and it's aimed at those whose original hotel or other rooming plans have fallen through at the last minute or were forgotten somehow. The app once made a sudden change of plans in Seattle a far more comfortable affair.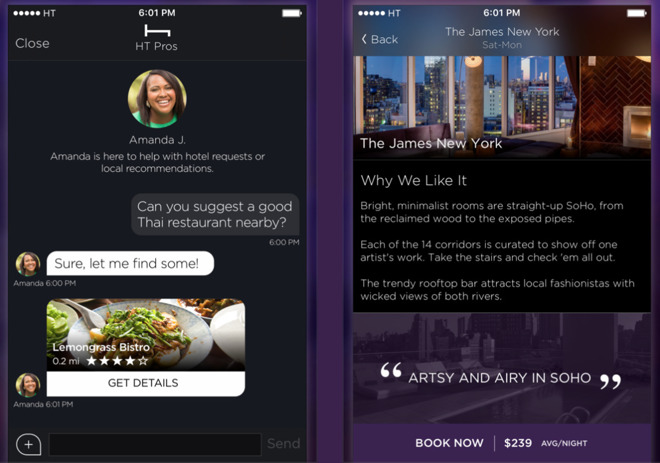 While there are better apps for booking hotels in advance, this is the one for those times when money is less of an priority than getting a room secured in a decent place.
If you're looking for the cheapest possible room at a given quality level, we'd suggest Priceline's Express Deals; you don't get to pick the hotel, but you do get to pick the general area such as by the attractions, or by the airport, and the discounts are often incredible.
LoungeBuddy (free)
A lot of our tips are aimed at saving you some cash, but here's one that will not —it's intended squarely at making an unpleasant part of air travel a bit more bearable.
As the name implies, LoungeBuddy gives you the lowdown on airport lounges and sells passes to most of them as well. These places don't generally draw attention to themselves, and are often surprisingly affordable, generally running between $30 and $50 for up to four hours.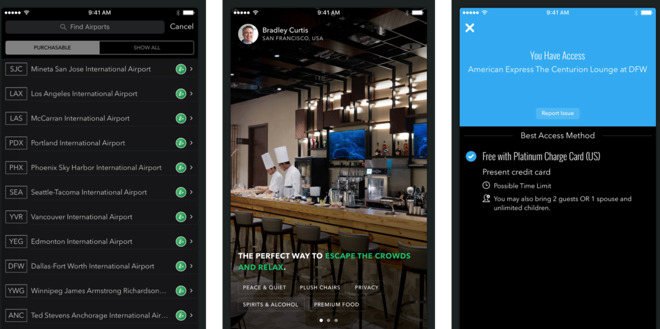 They offer peace and quiet and comfy workspaces, but also feature light food options and beverage choices. They are mostly the caves of businesspeople who have time to kill before their flight or connection.
The app offers reviews, photos, location maps, feature lists, pricing, requirements, and more, and lets you book a lounge in advance of your arrival. Between LoungeBuddy and the various options for getting through security more quickly and easily, you may actually like getting to the airport early.
One class of lounge that isn't always listed in the app are USO facilities, for active duty and veteran travelers. They are nearly always completely free, and most even have a place to sleep and shower for some of the more arduous layovers that military members are sometimes subject to.

Contents
Apple Support App Streamlines Support Options in iOS
Mangobeat Amplifies iPhone Volume Naturally and Sustainably
How to Fix Connection Problems with the AirPods
Carpool-Kids Takes the Hassle out of Carpools
Apple's Wireless AirPods Were Worth the Wait
Apple Support App Streamlines Support Options in iOS
FRESHLY SQUEEZED REVIEWS: Browser To Ride