iPhone 15 review: A bigger step up than the iPhone 14 was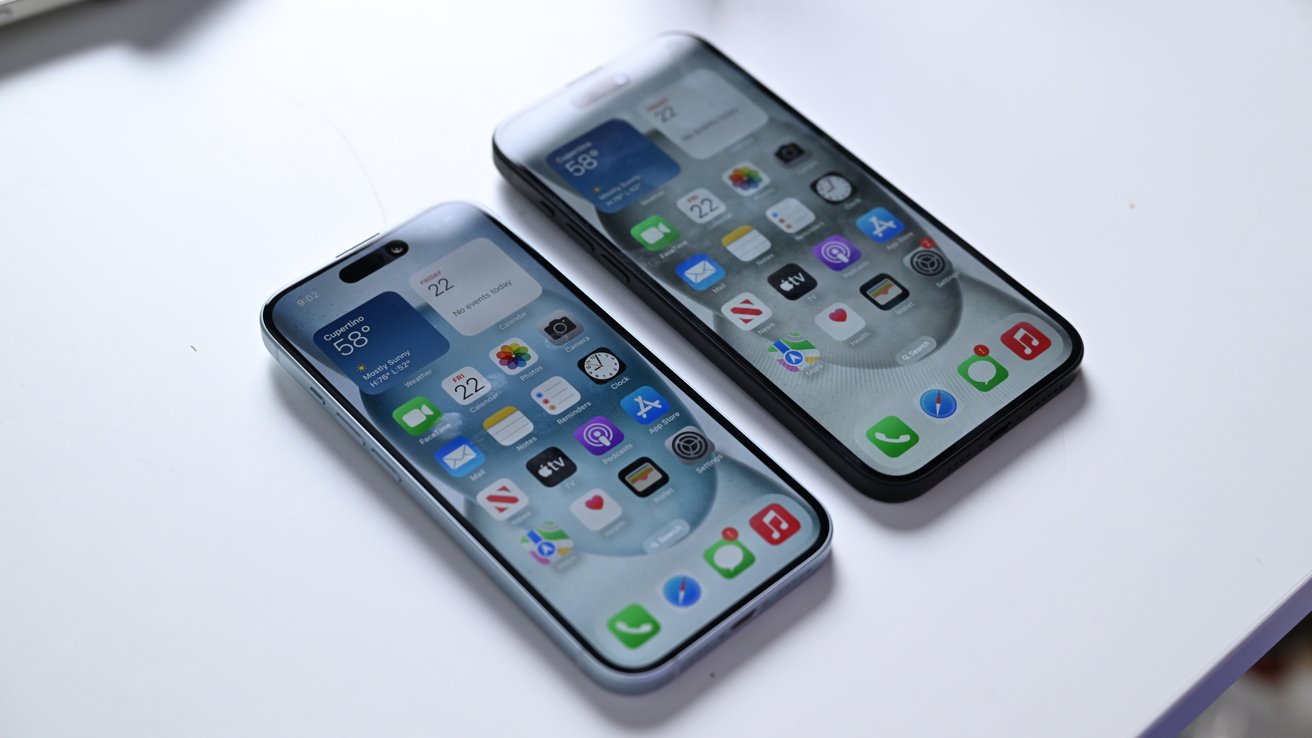 ---
The move to the iPhone 15 is a much larger step than the iPhone 14 was, and it is a return to form for Apple's phone for the rest of us.
The introduction of the iPhone 14 was, frankly, a disappointment when compared to the rest of the annual marches. Rather than any serious upgrades, it added a very a slightly better main camera, and Crash Detection — and that's about it.
At the time, it was thought that Apple had decided to hold back the standard iPhone releases so that there could be more differentiation from the Pro lineup in future years. The working theory was that once the Pro was sufficiently more advanced than the regular models, Apple could then trickle down some of its features in the subsequent year.
It seems that forecast was correct.
After this year-long pause to separate the two models, though, the iPhone 15 sees a processor improvement in 2023, and a few other perks from 2022's Pro devices.
iPhone 15 and iPhone 15 Plus review – External Appearances
Looking at the iPhone 15 and iPhone 15 Plus from the front with the screens off, there's very little design difference other than materials and color choices versus the iPhone 14. A close inspection shows the TrueDepth camera system is a bit lower, but that's all you get from the front.
Around the back, Apple uses the same sort of glass backing as before, except this time it's a color-infused version with a textured matte finish. There's also a contoured edge on the aluminum enclosure that Apple has introduced for these models.
The colors are weak in every possible regard. The glass is well-crafted, but it reminds me very much of a frosted shower door from the Miami Vice-infused '80s, with very muted pastel colors to match.
Clearly, several somebodies in Cupertino aren't fans of color saturation and decided to just wave a color swatch past the iPhone glass during the dyeing process, instead of making an actual colorization effort. This is an exaggeration, of course, as there is the faintest hint of color — but we can't say this any clearer, it is just a hint.
This won't matter much for the "my iPhone must have a case on it" crowd, but the color selections in the iPhone 15 lineup are milquetoast, and unremarkable.
Photography of the different colors is hard too. In too-bright or too-dim light, the entire lineup looks white. In fact, when I opened up the box for this review, I had to double-check with the documentation I was provided that the box was packed correctly with the proper color phone.
We get it. Material selection is hard, and that material selection coupled with what Apple wants from scratch resistance from color coatings is difficult. But, wow, are these colors plain.
Anyway, there's also not much to say about size and weight, though the new models are very slightly lighter and larger. At 5.81 inches long and 2.82 inches wide, the iPhone 15 is very fractionally longer than the iPhone 14, while the iPhone 15 Plus is 6.33 inches by 3.06 inches.
Both are 0.31 inches thick, mirroring the 2022 releases. What isn't the same is the weight, with the iPhone 15 now at 6.02 ounces and the Plus at 7.09 ounces, versus 6.07 ounces and 7.16 ounces, respectively, for the iPhone 14 and iPhone 14 Pro.
The big design change, is at the base. After a year plus of rumors, Lightning has been ditched for USB-C.
iPhone 15 and iPhone 15 Plus – USB-C is here
On the connectivity side, the headliner is the introduction of USB-C, with Apple finally removing Lightning from its flagship models.
There's a misconception that Apple was forced to do this in the iPhone 15, and that's not entirely true. It takes between 20 months and 30 months from iPhone inception to delivery, and given the architectural differences with USB-C, this kind of introduction would be pretty early in the design process.
Two years ago, the EU law that mandates USB-C on newly-available devices wasn't even really in consideration. And, only the iPhone 16 would be "forced" to have it.
There have always been a lot of benefits to USB-C, assuming you embraced it. The main detractor from it, is this now means many Lightning-based accessories won't work unless you use an adapter.
Fortunately, there's an adapter for that, as there has always been for the myriad cable specs there have been since the dawn of computing.
But, as always, all USB-C isn't created equal. While the Pro models get USB-C with 10Gbps data transfers, the A15 Bionic chip in the iPhone 15 doesn't have native USB 3 capability, so data transfers are limited to USB 2.0 speeds.
Opinions vary on how much this matters, with opinions highly dependent on how often any given user transfers data across a cable. Apple's iCloud covers most of the data transfer needs of the general populace — assuming the user is ponying up for larger storage capacities.
Big data transfers like video still take time. We're not sure how often a film maker will use an iPhone 15 and not a Pro model with the faster 10 gigabit per second transfer speeds, but certainly that number is not zero.
If that speed is important, either pony up for a Pro model now, or be patient. This will likely change in the future, especially if the A17 Pro with its native USB 3.2 controller of the iPhone 15 Pro models is added to the iPhone 16 — but it obviously doesn't help now.
And, USB-C allows users to directly connect to a television or other display at up to 4K with a single cable, minus a Lightning dongle While the cable is technically a DisplayPort alt mode, a $8 USB-C to HDMI cable will get you there.
So, presenters and gamers rejoice, at this being easier. It's still not a HDMI to HDMI cable, but as always we recommend being prepared if you know you might have a presentation to do.
In our time with the iPhone 15 and iPhone 15 Pro, we played a few games with Apple's Bluetooth controller support. It was fine, albeit not yet optimized for a larger screen experience, and nearly everything on the iOS App Store is touch-centric as it should be.
Higher-end title availability and a lacking big-screen experience may or may not change, as Apple is now making a push for "console-quality" games to come to the iPhone. We'll see with time how much actual effort they put into the initiative over time, as we've heard this all before from Cupertino, many times over the last 25 years.
So far, what we've seen on the Mac from a game porting perspective is mostly transferrable to the iPhone as well. So maybe it'll stick this time.